Warning! This post is very old and may contain information or opinions that are no longer valid or embarrassing.
More footage of General Ibrahim Abdel Aaty announcing the alleged HIV and Hepatitis C miracle cure appeared online. This one is a must see. There are English subtitles.
It's not clear what he meant by turning AIDS into Kebab. This statement created an incredibly funny social media storm complete with memes and everything. There is a healthy dose of skepticism and worry over the false hope and damage created by this announcement. In my opinion this is drowning out the pro-army voices (at least on twitter, sigh).
Essam Heggy the president's science advisor smashed the military announcement with some attempt at damage control. Saying this invention shocked scientists inside and outside Egypt and has no scientific merit. Nothing was published in peer reviewed journals, it tarnishes the image of the state and may have negative effects on scientific research in the country. He stressed that both Adly Mansour and el-Sissy didn't know about the invention and attending the conference didn't mean they support it.
This is good news. Finally some sense from someone in the establishment, hopefully this may avert the disaster. It's also quite refreshing to read local criticism to this nonsense from so many people.
Update 1 March 2014
A week passed since the announcement of the invention.
It is the most widely discussed topic in the media and social networks.
The military and the propaganda machine are refusing to withdraw or tone down their claims. A member of the developers team phoned a talk show to add that it can also cure diabetes, psoriasis and cancer.
State aligned talk show hosts are chiding Essam Heggy for criticising something outside his field of planetary science.
Friend and physician Jane Lomil who is active in defending patient rights criticised Essam Heggy's diplomatic response saying he is directly responsible for this disaster and accusing him of defending politicians manipulating an entire nation and his criticism of the cure was only to protect his image in front of the international scientific community.
Bassem Youssef dedicated two parts of his show yesterday to the same topic. To date this is the most powerful direct attack on the cure till now.
Bassem Youssef, who is originally a heart surgeon, addressed the inventors and the military:
You are promising millions that you are going to cure them of AIDS and HCV following June 30.

Before you accuse us of insulting the invention and disappointing people. First see those who made such promises. If they are fulfilled then great, if by June 30 they were not fulfilled the team of doctors and those who promoted them in the media must be held accountable.

Until this promise is realised I will, from my position here, remind people every week until there is a proper response.
Few doctors are coming forward to voice their criticism in the media. There is a culture of fear. General Abdel Atti's first response to Bassem Youssef was saying he will take him to a military court.
The doctors syndicate invited specialists and researchers to a workshop on 12 March to discuss the latest treatments in viral hepatitis and to come up with a professional statement.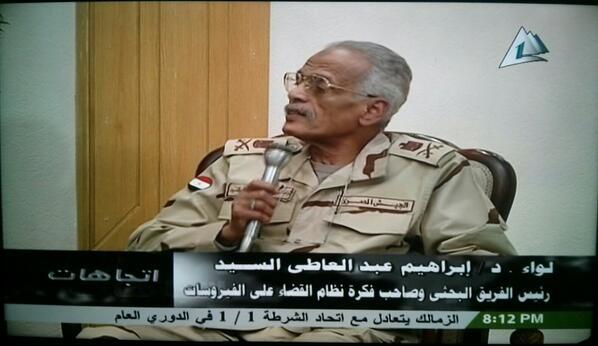 General Abdel Atti's military title turned out to be honorary and has a doctorate in alternative medicine from Colombia.
There are attempts to distance the diagnostic element C-Fast from the miracle cure. Citing a paper published on a blacklisted journal as evidence that it is something that works. The wild wild claims of the cure are making C-Fast appear as a more rational device even though it purports an extraordinary mechanism of action that has been previously cited by fake bomb detectors.
It's important to highlight that publishing in scientific journals doesn't mean something has become a fact. Computer generated gibberish can get published. The claims needs to be repeated by independent researchers with similar results. Attaching the name of the military to scientific research has no scientific merit on its own.